4 Best Inbound Marketing Strategies For Tech Companies
Here are some Inbound Marketing Strategies For Tech Companies.
A solid marketing plan is essential for a tech company that wants to succeed in 2022. It must outshine your competitors and create value for customers. It should not just increase awareness, but also provide a competitive advantage. No more are marketing agencies bombarding the public with advertisements for products they don't use. We know better. The Inbound Marketing Strategy is changing how businesses approach potential customers. 
Inbound marketing is different from regular outbound marketing. Customers are reached with relevant content that answers questions and provides valuable information. Search behavior and login history are indicators that customers need your help.
The key reason tech companies should adopt inbound marketing strategies is the fact that they have customers outside of their local area. Content marketing is an important method for increasing awareness of your company.
Inbound Marketing Advantages
Although traditional advertising and outbound marketing still have their place in a larger marketing strategy, it is important to recognize that inbound marketing will be a key component of your success within the tech industry. Let's now take a look at the key benefits that technology brands will experience with inbound marketing.
1. Quality informative content is the key to thought leadership
It is possible to make your company an industry leader by using informative blogs, videos, and other types of inbound strategies. Your company could become the industry leader in your area of expertise. This will help build trust and increase conversions and sales.
2. Chances for success after conversion
Many people think that their job is complete when a potential client converts or they sell a product. These professionals don't see the larger picture. Inbound marketing strategies enable a company to repeat the process with the exact same customer over and over again and keep them coming back for more. This is possible through:
Sale announcements
Recommendations for new products
Requests for feedback, reviews, and social shares
Discount codes and coupons
3. Integration of free trials
Offering new customers and clients free trials of your products can help increase sales and conversions. New leads may benefit from a "try before buying" scenario, which allows them to experience the benefits of your product or service. If the product meets the needs of the researcher and helps them save time or money, they are more likely to invest.
4. Sales and conversions increase
Your inbound marketing strategy will bring in more leads and increase sales conversions if you have landing pages that are clear and concise. However, it is vital that your tech company uses all the most recent landing page best practices to ensure optimum results.
5. Promotion of brand
Even though a tech company may have the most innovative product on the planet, it will not be able to make its brand known to the industry. Inbound marketing strategies have many advantages as you've seen in this section, but one of the most important is brand awareness. Your marketing team can use creative content to present your company to the world and explain all the details. This is a great way to show off new products or services and highlight their value to clients and customers.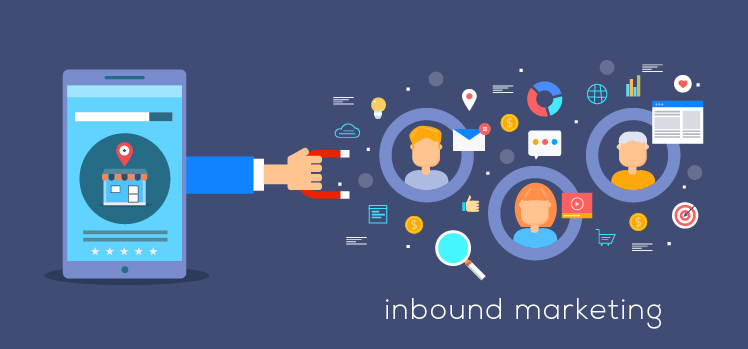 4 Inbound Marketing Strategies For Tech Companies
Companies that adopt inbound marketing strategies are on the path to critical business growth. Companies that do not use inbound marketing strategies as their primary marketing strategy are likely to be on a downward slope and have to catch up.
Traditional marketing is failing because it doesn't understand the value of content and its role in the marketing of the future. Many people who search the internet for tech solutions want actionable information.
They don't need your assurances that you know what you're talking about. Your insights must convince customers. After a customer searches, their expectation is that they will leave with a greater knowledge base. This is the purpose of inbound marketing strategies.
Inbound marketing agencies are one of the most effective marketing strategies for content. They have been able to increase sales and expand brand awareness by using inbound tactics. Content is a great way to increase your audience's engagement with your brand. Better engagement will result in greater business and thus guarantee growth.
What are the best inbound marketing strategies for tech companies? Continue reading to learn the four best inbound marketing strategies for tech companies.
1. Become tech teachers with the help of ebooks and guides
We talked about how many people surf the internet looking for solutions to their tech problems. These solutions can be found in ebooks and how-to guides. This is something that most well-respected tech companies understand and have offered solutions to a wide range of customer problems.
These forms will not only increase site visits but also help you to be the authority on your domain. Ebooks can be a great tool that offers great value to your customers. Ebooks are a great tool that can be downloaded. This gives customers a sense of ownership and allows them to access useful information.
These ebooks can be used to sign up customers, which will allow you to identify the customer and enable you to remarket. Another great way to connect with customers is to create how-to videos and how-to guides.
2. Email marketing should be one of your top marketing strategies
Email marketing is the most profitable strategy, evidently. Because you only reach potential customers by email, and they have already given their contact information in return for valuable content such as ebooks and other content, this is the best strategy.
According to Hubspot, 83% of B2B inbound marketing agencies/companies use email newsletters for their content marketing, and 40% of these companies credit their content marketing success to email newsletters. Email marketing is a great way for inbound marketers to increase awareness of their content.
Email marketing can help increase the reach of your content. Customers are often misinformed that they don't read emails. Customers actually read all emails if they are of interest to them. To build trust and a genuine relationship with customers, tech companies can send them relevant emails frequently.
3. Social media presence is vital
It is crucial for tech companies or any company to have an active social media presence by regularly putting out original and informational content. An active social media presence can help you establish authority in your field and increase awareness of your brand by reaching a wider audience through consistent posts.
As with all things, social media management can be difficult. It is crucial to plan ahead and be careful. Social media is the place where your company's PR takes place. Your social media accounts are more than just your website.
They represent your brand image and help customers decide how approachable you can be. Your social media account can be used for short posts or snippets of blog content. They can be used to promote the more extensive content on your website (such as case studies and blogs) for more customers, increasing your website traffic.
You should select a social media platform to go viral so that you have the ability to reach the right audience. A B2B tech company might consider investing in LinkedIn if they have the most reachable audience.
4. Website
Websites are the best way to do business in today's digital age. It is where most of your content marketing takes place. This is where customers will interact with your brand. Your website must be well-designed and tailored to provide a seamless user experience.
Further, Google is updating its algorithm regularly so that brands with valuable content and smooth user experience (as per upcoming user experience algorithm update) are rewarded.
The changing landscape has made it difficult for customers to understand the importance of outbound marketing strategies. Customers recognize brands and will only accept them if they offer valuable information through their content.
This is why tech companies as well as other businesses, must embrace inbound marketing strategies to engage customers with consistent content. It is possible to create a marketing strategy that doesn't sound like one.